"Whereas the NBA Finals Most Valuable Player Dirk Nowitzki chose to resign with the Dallas Mavericks in the summer of 2010, forgoing free agency and keeping his talents in Dallas, thus remaining loyal to the team, city and fans for whom he played his entire career..."
Ohio Governor John Kasich had a little fun with LeBron today, taking a swipe at him, while proclaiming the Mavericks honorary Ohioans.
Nah, we're not bitter about LeBron "taking his talents to South Beach" and making a world-wide spectacle of his decision. The seven championships he bragged about will have to wait.
Gary, my husband, was actually in Dallas for the blessed event last night and the family he is staying with went out immediately to purchase their championship gear. Being newly minted "Mavaliers," we forked out $17.50 a piece for a few of our own to wear around C-Town.
Before I go on, I would be remiss if I did not give credit where it was due:
But before everything got officially started, the president - unsolicited - brought up the topic most Clevelanders have chosen to forget, LeBron James.
"Is Cleveland still rooting against Miami?" asked the president as [WEWS reporter Leon] Bibb was taking his seat (and before the cameras were rolling).
"Yeah, we're working on that," replied Bibb, laughing and asking his thought on the series.
The president said he expects the Heat to take it.
The man is consistent in his sports picks, if nothing else. His endorsement is the kiss of death to a team. I don't think anyone has been this consistent since Paul the Octopus was picking World Cup soccer winners!
Immediately after the game, it seems like everyone in N.E. Ohio took to Facebook for an impromptu virtual celebration. Here's a sampling of the Facebook comments:



"BREAKING NEWS: Apple just announced the new "Lebron IPhone"; it just vibrates - No rings!"
"LeBron needs to marry Savannah, then he could finally get his ring. But knowing the way LeBron performs down the stretch he probably wouldnt show up!!" [ouch!]
"I think Mavs Nation just increased permenantly by, oh, about the population of Ohio or so."
"Man he wasn't kidding when he personally garenteed that Cleveland would win a championship before Miami!" [speaking of Cav'

s owner, Dan Gilbert, I'm assuming]
"Hey LeBron (cough, cough)." "Wassup, D-Wade (cough)." "You (cough, cough) feelin' sick yet?" "(Cough) Yup." "Me too."
"I don't even like basketball, but YAY DALLAS!!!!! Not that I'm vindictive or anything..."
"Did anyone see the Miami NBA dream team win the finals!?... Neither did I."
"Looks like a true CHAMPION finally brought their talents to South Beach tonight.....Thanks Dallas, on behalf of all of us here in Ohio, for showing this bunch of clueless clowns how to win with determination, guts, and most of all, CLASS!"
I'm not gonna lie. I enjoyed it. A lot.
In addition to Miami, the other losers last night were the Knicks. They cleared salary space hoping to sign LeBron, only to have him join Bosh and Wade in Florida, which could rightly be named the Tax Shelter State. Lebron and the rest of the NBA Tax Shelter Bloc saved millions by taking their talents and big bucks to Florida. New York, again, shoots itself in the foot with it's oppressive tax burden.
Brian Windhorst, former Cleveland sports writer, now with ESPN, as LeBron's personal reporter, wrote an article ripping LeBron's performance in the championship series:
"It was now when he was expected to rediscover that dominance with anger and motivation from the Mavs and the masses. Everyone around him thought so, too. They talked to him about it, they encouraged him, they expected it. Even his biggest detractors and critics knew it could happen. They qualified and tempered their lashings over the past two weeks expecting James to answer at some point.
But as he went through another puzzling game Sunday -- dishing repeatedly to Juwan Howard at the rim instead of taking the ball to the basket himself, passing up wide-open shots when the ball came his way, standing and watching on defense like it was a summer camp drill at times -- it got more and more clear.
James couldn't do it.



So fitting was the moment in the fourth quarter when the Heat were trying to cobble together a comeback and Mario Chalmers and James found themselves on a break together. James called for the ball. Chalmers saw him but kept it, trying to beat two Mavs players by himself. It was a brash play by a headstrong and fearless player that was wrong, but it was also a glaring indication of where James' teammates apparently thought he was by then. Chalmers felt like he could do it better by himself."
It's almost painful to read.
James took to Twitter and blamed God:
"The Greater Man upstairs know [sic] when it's my time. Right now isn't the time."
And he told the media that we, the fans, should get back to our pathetic little lives and he would get back to his bazillion times more awesome life:
"All the people that were rooting me on to fail, at the end of the day they have to wake up tomorrow and have the same life they had before. They have the same personal problems they had today. I'm going to continue to live the way I want to live and continue to do the things that I want with me and my family and be happy with that."
Very classy, LeBron.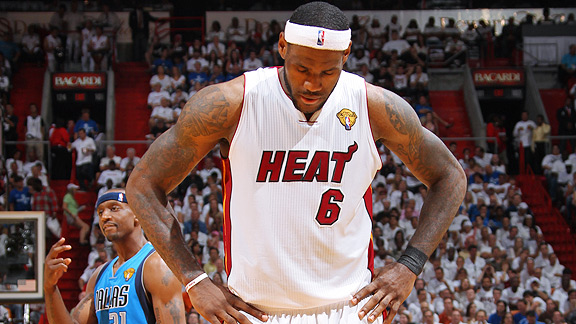 Nathaniel S. Butler/Getty NBAE/Getty Images